case studies
An executive team has a new leader, new members and new critical goals.
program outline:
Step 1: A team development workshop assessed traits of members, built a team profile of strengths and weaknesses and, identified competencies executives need for new conditions.
Step 2: Individual feedback sessions helped participants interpret extensive data on how they could best contribute to the new goals.
Step 3: Participants solved a real problem in a follow-up workshop, increased team effectiveness and demonstrated an understanding of diverse work styles.
Step 4: Coaching led to optimizing strengths and to targeted, on-the-job learning.
Step 5: Workshops for departments aligned goals and improved performance
results:
>

Better communication

>

Enhanced ability to match strengths to tasks

>

Faster goal accomplishment

>

Reduced conflict

>

Shortened time to integrate new members

>

Faster development of critical skills

>

Shortened time boss needed to spend on coaching
A senior management team realizes most members are nearing retirement age, and there are few well-qualified candidates in the leadership pipeline.
program outline :
Step 1: Critical jobs identified.
Step 2: Panels (consisting of incumbents, direct reports, bosses, and clients) agreed on leadership competencies.
Step 3: Panels developed a profile of personality traits.
Step 4: Profiles used for candidates to assess own readiness, for selection of development strategies, and for succession planning.
Step 5: Profiles used in coaching of incumbents to increase their own effectiveness.
Step 6: Data compiled for a snapshot of teamís strengths and weaknesses for use in selection of new members and design of strategies rapidly for mastering new skills
results:
>

Reduced time and money required for development

>

Improved morale of candidates not selected

>

Increased ability of employees to be responsible for their own development

>

Higher probability organization will have outstanding leaders in the future

>

Enhanced performance of incumbents

>

Fewer mistakes in selection

>

Greater ability to tie succession planning to other HR systems
A board has a new chairman, new members and a short time frame for accomplishing new goals.
program outline :
Step 1: Board members and chairman took personality assessment to get data on traits they should optimize.
Step 2: Workshop that provided data on work style preferences and facilitates communication.
Step 3: Alignment of goals
Step 4: Profile of team that pinpointed strengths and showed gaps that should be considered when adding new members.
Step 5: Matching of tasks with strengths.
results:
>

Increased retention of board members

>

Shorter meetings

>

Enhanced productivity

>

Enhanced public relations

>

Higher probability of achieving goals

>

Improved fit of future members with culture

>

Better communication

>

Clearer expectations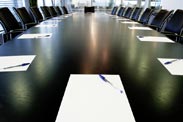 solutions with results

Want your leadership team to be extremely successful in tough conditions? Have productivity soar? Have qualified leadership candidates in the pipeline?

Call (804) 405-1731 to learn more about our results.